I'm close to finishing both chapter five of my book and part three of my Age of Authenticity essay but neither is quite ready yet. So here is the second David Lewis tribute post. Here we again have scans of copies of copies of twenty year-old material. But again, it's up-to-the-minute relevant. David was making ends meet as a labourer on the expansion of the Celgar Pulp mill which the company insisted on continuing to run, even as it was being renovated. The result: a chlorine gas leak; David came to work the next day and circulated this memo.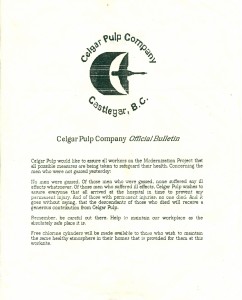 Sadly, I've lost the daily "official bulletins" he continued distributing until he was fired. All subsequent bulletins began, "It has come to the attention of Celgar Pulp that bogus official bulletins are being distributed in its name. This is not one of those bulletins."
David was most famous for his variant on Bob Bossin's Home Remedy for Nuclear War: small bottles of air that he would sell using an antique nineteenth-century portable sales display. He rented a booth at the Globe 90 UN conference in Vancouver and attempted to sell a bottle to Gro Harlem Brundtland, the author of Our Common Future and inventor of sustainable development. She didn't buy one. While I've lost my bottle, I do have some tattered copies of the brochure.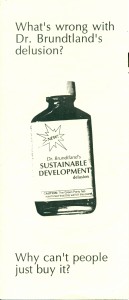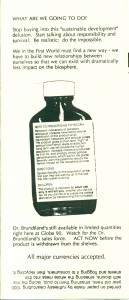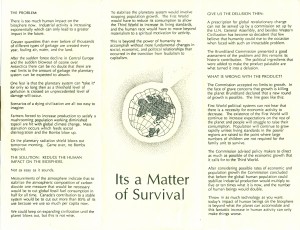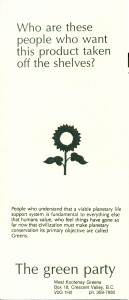 Here's a one-page version, even more tattered.